Charleston is known for its rich history, delicious coastal cuisine, and Southern charm. The restaurant scene is at the center of this city's massive tourism industry. From Lowcountry staples like shrimp and grits to steaks seasoned with southern charm, Charleston has a plate fit for your palate! Immerse yourself in our area's foodie scene at the Charleston Wine and Food Festival each March. It's a four-day-long affair that allows guests to taste, learn, and create! This annual event features a wide variety of tastings, dinners, workshops, and excursions that give you an insight into the culinary processes of the South's best chefs. 
While you're in town, you'll want to check out the incredible attractions, restaurants, and activities. Request our free Vacation Guide so you can easily plan your trip before you get arrive!
Preview the Charleston Wine and Food Festival 
This year's Charleston Wine and Food Festival is set to take place around the city from March 4 – 8, 2020. Take a look at the schedule before you purchase your tickets! 
Culinary Village
The Culinary Village is the heart and soul of the Charleston Food and Wine Festival. This event takes place in Marion Square, located in the heart of downtown. Here, you can walk around and sample food and wine, watch live cooking demos, listen to live entertainment, and more!
Signature Events 
Signature events allow you to experience food and wine tastings in unique atmospheres around the city. Whether it's a Lowcountry Boil in the Old Cigar Factory downtown or a seafood tasting at Mount Pleasant Memorial Waterfront Park, each one of these events is the perfect way to experience delicious cuisine in a fantastic setting.
Signature Dinners
Signature Dinners at the Charleston Wine and Food Festival showcase nationally acclaimed chefs and restaurants throughout the city. These multi-course dining experiences are a great way to treat yourself to an extra special evening!
Beverage Workshops
Do you want to learn the art of making cocktails, sample fantastic wines, and discover the latest and greatest craft brew? The Beverage Workshops provide you with the opportunity to sample some of the best local libations in a fun, educational program.
Brunches + Lunches
Charlestonians love their brunch, and that is on display in this series of Brunches + Lunches. In addition to an assortment of to-die-for breakfast and lunch options, there is a fantastic beverage pairing special featuring champagne, wine, beer, and cocktails. After all, it's 5 o'clock somewhere!
Excursions
Learn more about what makes the city of Charleston so unique on one of the Excursion tours. They are a great way to get a taste of Charleston's history, beautiful scenery, and cuisine in one package!
Hands-On Classes
Do you want to learn how to be a master chef and recreate all of those mouth-watering dishes you see on TV? The Hands-On Classes at the Charleston Wine and Food Festival give you the tools to be the head chef of your kitchen at home (while sampling some tasty food of course).
Tip: This is one of the most acclaimed events of the year. If you're considering attending the event, buy your tickets as soon as possible. It books up very quickly so make sure you check out the schedule to see what's still available!
Spend Your Spring Vacation at an East Islands Rentals Home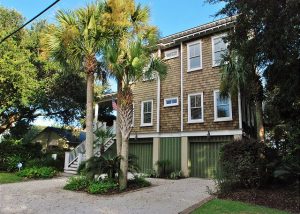 We're sure you can't wait to visit the Lowcountry during the Charleston Wine and Food Festival. If you can't make it, worry not! There are plenty of great restaurants on the Isle of Palms to enjoy all year. Return to your East Islands Rentals vacation home after a day of eating. Our collection of rentals stretch across the beautiful Isle of Palms, where pristine beaches and great weather make for an incredible spring vacation! 
Browse a full inventory of properties to find the perfect beach vacation home today! We hope to see you for the Charleston Wine and Food Festival!