Visit the Best Attractions of Charleston
Charleston has beautiful beaches, historical tours, and stunning attractions. On your next visit to the Lowcountry, see why we love these Charleston Attractions that we can't stop talking thinking about!
Start by accessing your free Isle of Palms & Charleston Travel Guide. It contains over 100 activities and attractions to enjoy in the area. You'll love this guide!
Our 10 Favorite Attractions to Visit in Charleston, SC
1. Middleton Place Plantation
Located just outside of downtown Charleston, this plantation is one of the oldest in the country and offers a unique look into the history of South Carolina. The site is beautiful and is definitely a must-stop when you are in the area!
2. Waterfront Park
This park offers stunning views of the harbor and is a great spot to take a stroll or have a picnic. The iconic "pineapple fountain" can be found here, and its beauty makes it the popular backdrop for many pictures.
3. Magnolia Plantation & Gardens
This historic plantation has been around since 1676 and features beautiful gardens, nature trails, and more. One of the oldest remaining plantations in the South, Magnolia Plantation is a sobering reminder of Charleston's complex history.
4. Charleston City Market
The City Market is an open-air market that has been around since 1804 and offers everything from local art to handmade crafts and souvenirs. The market is split between the Day Market and the Night Market, featuring different vendors (and the night Market is only open Friday and Saturday nights).
5. Fort Sumter National Monument
This historic fort was the site of the first shots fired in the Civil War and is now a popular tourist attraction with plenty of history to explore.
6. Folly Beach
Attached to idyllic James Island, Folly Beach is one of Charleston's busiest attractions! From the recently renovated Folly Pier to the cute beach town and pristine beaches, Folly Beach has a little bit of everything to make your next trip magical.
7. Boone Hall Plantation
This plantation dates back to 1681 and is one of the most iconic sites in Charleston, with its Avenue of Oaks leading up to it. Boone Hall is often the site of weddings, fright nights during Halloween, and other events!
8. Dock Street Theater
This theater has been around since 1736 and is one of the oldest theaters in America, still operating today with regular performances throughout the year. A local favorite, watch great productions year round with talented local actors.
9. South Carolina Aquarium
The aquarium features over 5,000 animals worldwide, including sharks, stingrays, sea turtles, otters, penguins, jellyfish, and more! One of our favorite exhibits is the 385,000-gallon Great Ocean Tank, where sharks, rays, and sea turtles can be seen!
10. Sullivan's Island
Sullivan's Island is known for its beautiful beaches, perfect for swimming or sunbathing during the summer or taking long walks during the winter when it's less crowded! If you enjoy history, you will like visiting Fort Moultrie!
Where to Find the Best Vacation Rentals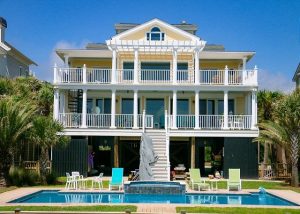 For the most exclusive Isle of Palms vacation rentals, choose East Islands Rentals. Our vacation rentals are spacious and luxurious, offering the finest amenities, close beach access, breathtaking views, well-equipped kitchens, cozy living spaces, and more. We also work with top guest service companies to provide you with everything from beach chairs and baby equipment to groceries and golf carts. When you choose an East Islands Vacation Rental, you have access to all of this while staying just minutes from the activities and attractions mentioned above!