Stretching three blocks through downtown Charleston, South Carolina, the Charleston Night Market is unlike any market you've visited before. In addition to beautiful art, jewelry, clothing, and homeware made by some of the area's finest local vendors, the buzzing evening market features incredible food and live entertainment. Find out more about the free weekly event below! Looking for more great things to do in the area? Take a look at our complimentary Vacation Guide! It's full of the Isle of Palms and Charleston's best restaurants, outdoor activities, upcoming events, and more.
The Charleston Night Market & Everything You Need to Know
About the Night Market
The largest handmade market in the Southeast, the Charleston Night Market takes place every Friday and Saturday evening in Charleston, SC, from April through December. As the sun dips beneath the horizon, the night market comes alive with vendors setting up shop, local artists providing live entertainment, and visitors hunting for handmade treasures. You'll find everything from handcrafted soaps and candles to fine art and jewelry. Don't worry if you develop an appetite while browsing, there are plenty of delicious food vendors from which you can choose! 
Market Vendors
The Charleston Night Market showcases the handmade creations of dozens of local vendors. In fact, all vendors at the market are local! You'll find some of the Lowcountry's best artists, jewelry makers, craftsmen, photographers, and more. For a classic memento of Charleston, be sure to pick up your favorite handmade sweetgrass basket! These beautiful baskets are woven daily and will last for generations.
Location & Hours
The Charleston Night Market is located in downtown Charleston in the Historic Charleston City Market building at 188 Meeting Street, Charleston, SC, 29401. The night market is open April through December on Friday and Saturday evenings from 6:30 p.m. to 10:30 p.m. The market is free and open to the public.
Looking for More Places to Shop?
The Charleston Night Market is one of the best places to find locally made gifts and treasures to take back home. If you're interested in more shopping spots during your vacation, take a look at our guide on the top 5 places for Isle of Palms shopping. Whether you're looking for a new outfit, quirky gifts, or a beautiful piece of art, you're sure to find it in the Charleston area! 
Where to Stay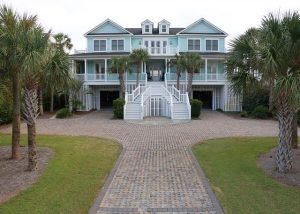 The Charleston Night Market is one of the area's many delightful attractions. If you want convenient access to all the best things to do in town while also enjoying plenty of space and privacy, book your stay in an East Islands Rental. We have beautiful, luxury vacation rental homes throughout the Isle of Palms featuring an array of amenities, private pools, beach access, and more. Whether you're traveling with a small group of friends or the whole family, we have the vacation rental for you! Our homes have everything you need for an indulgent and relaxing stay, including a range of fabulous guest services. Start browsing our beautiful vacation homes today, and feel free to contact us if you have any questions!