Are you looking for the perfect destination for your next corporate retreat? Consider the stunning combination of Isle of Palms and Charleston, South Carolina. These two adjacent gems offer an ideal blend of relaxation, inspiration, and team-building opportunities.
If you want to start planning your Isle of Palms getaway immediately, download our FREE Destination Guide now.
Whether your goal is to foster creativity, enhance teamwork, or unwind, here's why the Isle of Palms and Charleston should be at the top of your list for a corporate getaway.
Business Travel & Corporate Retreats That Are Sure to Please

Group Activities
Beach Olympics:
Kick off your retreat with a lively Beach Olympics competition on the Isle of Palms' pristine sandy shores. Activities like beach volleyball, paddleboarding races, and sandcastle building can foster team spirit and healthy competition.
Eco Tours:
Explore the Lowcountry's unique ecosystem with guided kayak or paddleboard tours. Encounter local wildlife and immerse your team in the serene beauty of salt marshes and tidal creeks.
Charleston Harbor Sailing:
Charter a sailboat or catamaran for a leisurely cruise along Charleston Harbor. It's an opportunity for relaxation and team bonding while taking in breathtaking views of the historic city.
Escape Rooms:
Charleston offers several escape room experiences where your team can put their problem-solving skills to the test. It's an excellent way to promote collaboration and teamwork.
Golf:
A round of golf as a team or individually is a fantastic way to experience the beauty of Isle of Palms and engage in a great group activity.
Fishing:
Tackle your group dynamics by casting a line! Fishing is a great way to connect, work together, and have fun. Whether you are fishing inshore or offshore, it is always the right time of year for fishing.

Cultural Tours
Historical Charleston Tours:
Explore the rich history of Charleston with guided tours that delve into the city's storied past. Visit historic landmarks like the Battery, Rainbow Row, and plantations like Boone Hall.
Gullah Tours:
Discover the unique Gullah Geechee culture through Gullah tours, which provide insight into this remarkable community's heritage, traditions, and contributions.
Art and Architecture Walks:
Explore Charleston's vibrant art scene and admire its stunning architecture. Guided walks can take your team through the historic district, showcasing the city's artistic and architectural treasures.

Dining and Culinary Experiences
Lowcountry Cuisine:
Treat your team to delectable Lowcountry cuisine, characterized by fresh seafood, shrimp and grits, she-crab soup, and other southern delicacies. The IOP and Charleston dining scenes offer an array of restaurants to choose from.
Cooking Classes:
Consider a cooking class to spice up your retreat. Learn the secrets of Lowcountry cooking and have fun competing in your own mini "Iron Chef" challenge.

After-Hours Entertainment
Live Music:
Charleston and Isle of Palms is known for its vibrant music scene. Enjoy live jazz, blues, or beach music at one of the city's many music venues.
Nightlife on King Street:
King Street in Charleston offers a variety of bars and nightclubs for an unforgettable night out. It's a chance to unwind and celebrate your team's hard work.
Book Luxurious Accommodations on Isle of Palms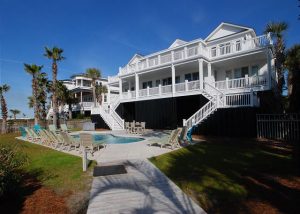 East Islands Rentals has an ideal vacation rental to suit every business travel and corporate retreat need. Consider choosing a location that is right for your team's preferences and provides the amenities needed for cooperation and respite.
Our location provides a captivating blend of relaxation, culture, and team-building opportunities for your next corporate retreat. Whether you're strolling along the pristine beaches, exploring Charleston's historic district, or enjoying a delicious Lowcountry meal, this destination has it all. It's the perfect backdrop for a retreat that will leave your team inspired, refreshed, and even more connected.
Book your corporate retreat accommodations today with East Islands Rentals. Our staff of friendly and local professionals are standing by to help make your retreat a success.