A favorite spot of locals and visitors alike, The Windjammer's friendly atmosphere and laid back vibes continue to attract guests to the casual beach club day after day. Located right along the sandy shores of the Isle of Palms in South Carolina, The Windjammer is the ultimate spot to grab a refreshing beverage, enjoy live music, watch (or join!) a beachside volleyball game, or simply sit back and admire the views.
Along with some of our favorite spots like The Windjammer, we've included recommendations on the area's top restaurants, shopping, golf courses, outdoor activities, and more in our free Vacation Guide. Discover the best things to do on your beach getaway to the Isle of Palms and Charleston area!
What to Do at The Windjammer
Enjoy Food & Drink with a View
One of our favorite bars on the Isle of Palms, The Windjammer offers a tasty menu full of food and beverages. What The Windjammer menu doesn't tell you is that you'll be enjoying all these delicious offerings from a spacious beachside deck overlooking the ocean. You'll find everything from spicy buffalo wings and fried pickles to peel-and-eat shrimp and snow crab legs. You can also enjoy a full bar with an extensive drink list that includes specialty cocktails, beer, and wine.
Attend an Event
From country music concerts to Tuesday night karaoke, there's always something going on at The Windjammer. Check the live music calendar for upcoming events which are open to guests ages 21 and up unless specified otherwise. On most weekends in the summer, you can catch a live band or show at The Windjammer.
Watch & Play Volleyball
The Windjammer maintains a few sand volleyball courts that host a number of tournaments throughout the summer as well as casual pick-up games. Located on the beach, just below the bar's deck, the main court can easily be viewed while sitting upstairs. Watch from the deck or join the fun and play a game yourself! The beach courts are free and open to the public unless a tournament is taking place. You can check the volleyball cam to see who's on the court right now!
Where to Stay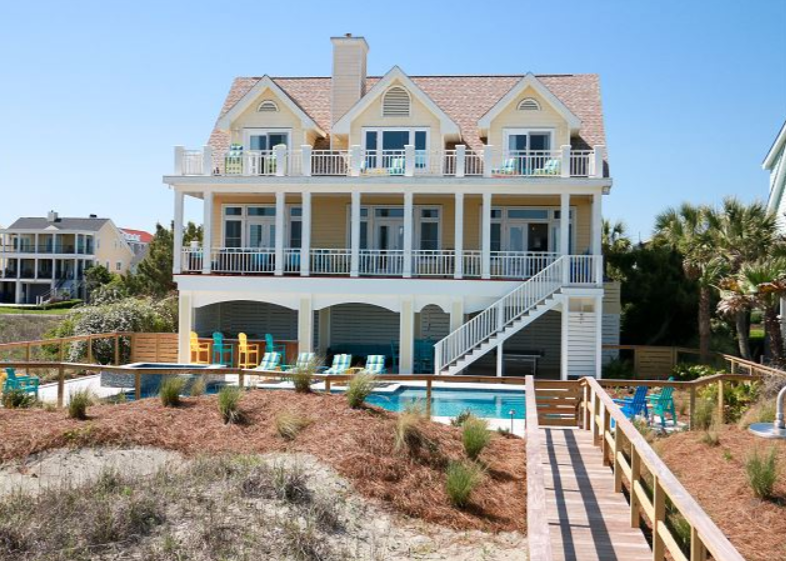 If you're looking for the best place to stay on the Isle of Palms, look no further than East Islands Rentals. After enjoying an afternoon or evening at The Windjammer, walk just steps down the beach and arrive at Ocean Paradise. This 10-person oceanfront retreat has four bedrooms, four bathrooms, multiple spacious decks, a full outdoor summer kitchen, and more. You can't go wrong with any of our vacation rentals, but Ocean Paradise is always a guest favorite. With private beach access, panoramic ocean views, and your own pool, what's not to love?
For the Isle of Palms' premier vacation rentals, choose East Islands Rentals. Enjoy convenient access to all the best IOP attractions and a rental company that will take care of you from start to finish. We look forward to hosting you on the ultimate beach getaway!