Two of the most popular activities for Isle of Palms vacationers are relaxing by the water and indulging in Lowcountry cuisine. Pressed for time? You shouldn't have to choose between these two great activities. Waterfront dining in Isle of Palms wraps these fan-favorite activities into one! Enjoy the salt air on your skin as you sit in cozy chairs and chat with friends and family in between bites of She-crab soup, shrimp and grits, and other fanciful favorites. Waterfront dining with magnificent views and delicious food is just the beginning of what makes your trip to the Isle of Palms so great. Explore more of what our area has to offer with our free Vacation Guide!
These Are Our Favorite Spots for Waterfront Dining on Isle of Palms 
The Boathouse on Breach Inlet 
The Boathouse on Breach Inlet has earned a place in our hearts as one of the best Isle of Palms restaurants. The fresh-catch menu options and coastal decor are just the beginning of what we love about this eatery. The Boathouse on Breach Inlet also features a charming patio for waterfront dining. Grab a seat at the bar and enjoy waterfront views thanks to the open-air floorplan. Or, opt to dine on the patio with the water just beneath your feet. At night, string lights illuminate the patio, making it the perfect place to reflect on your day as the sunsets.  
Coconut Joe's Beach Grill
No frills? No problem. Coconut Joe's Beach Grill has been serving up Lowcountry favorites since 1997. At Coconut Joe's, what you see is you what you. That includes the oceanfront views! This unassuming-from-the-outside eatery boasts funky, colorful dining spaces with matching frozen drinks to boot! Choose from a variety of Southern favorites (most battered and fried) with accompanying views of the Atlantic Ocean! Coconut Joe's also boasts the best happy hour on the island! 
Coda Del Pesce
For something on the frillier side, opt for dinner at Coda Del Pesce. This natural light-filled eatery is the Isle of Palm's favorite Italian restaurant. Dine outside for panoramic ocean views. Weather not cooperating? Dine inside and enjoy the waterfront views thanks to the floor-to-ceiling windows. There's truly not a bad seat in the house! Even better than the views is the menu. Coda Del Pesce considers its cuisine to be "contemporary Italian" while also incorporating Lowcountry favorites like blue crab! 
Enjoy Waterfront Views at Your Home With East Islands Rentals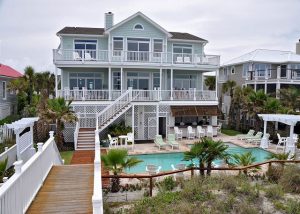 Don't let the oceanic views stop with waterfront dining in Isle of Palms! Lowcountry beauty awaits you at your Oceanfront Rental with East Island Rentals. With 19 Oceanfront rental options, you're sure to find a home away from home that suits your needs. Stay just steps away from the sandy beaches of South Carolina and near all of the best places for waterfront dining. Don't let this opportunity slip away. Reserve your favorite Isle of Palms rental now!