There's always a party happening in the Lowcountry! From oyster roasts to wildlife expositions, there are Isle of Palms events for everyone's interests. Join us any time of year to celebrate what makes our area so special. Enjoy festivals centered around food, friends, and fun! Some of our favorite annual events in the Lowcountry take place just a stone's throw away from our rental homes on Isle of Palms. 
When you're ready to start planning, request a copy of our free Isle of Palms Vacation Guide! This resource is filled with more local insight on what's happening during your stay. 
Unlock Your IOP Vacation Guide 
Local-Approved Isle of Palms Events
Lowcountry Oyster Festival | January 
Like New Englanders to lobster rolls, Lowcountry locals love their oysters! Our location on the Atlantic makes Charleston a great place to taste fresh-catch oysters. Chargrilled, fried, or however you like 'em, you can find nearly any style of prepared oyster in the Lowcountry. 
Come out and see what our love for this seafood is all about the annual Lowcountry Oyster Festival at Boone Hall Plantation. It's the largest oyster festival in the world and takes place at the end of each January to benefit a variety of local charities. Participate in oyster shucking and eating contests, sing along to live music, and more! 
Southeastern Wildlife Exposition | February 
Do you love wildlife? From exotic reptiles to agility dogs, there's so much to learn and observe at the Southeastern Wildlife Exposition, known locally as SEWE. Since 1983, this Lowcountry favorite has grown to become the largest event of its kind with more than 40,000 guests each year! This weekend-long event features art exhibits, wildlife demonstrations, and more. The most popular event is DockDogs® competition in which skilled agility canines soar through the air. 
Charleston Food & Wine Festival | March
Dining is the cornerstone of almost any visit to the Lowcountry. Our area is known for Southern staples like shrimp and grits, she-crab soup, and fried seafood. The Charleston Food & Wine Festival celebrates masterful iterations of these classics, as well as brand new dishes crafted by the most talented chefs in the nation. Enjoy cooking demonstrations, sink your teeth into culinary creations, and more! This event is great for the foodie in all of us! There are a variety of ticket options, so be sure to browse and see what best suits you. Be warned, though, this event sells out fast! So don't wait to plan your trip to Charleston for this event.  
Stay Near the Excitement at East Islands Rentals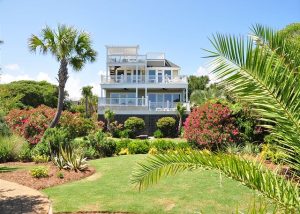 Our rental homes are a great option for anyone who wants to attend these Isle of Palms events. Enjoy a luxurious stay in a home with beachfront views, cozy amenities, and a convenient location near downtown Charleston where all of the best events take place! 
Browse a full inventory of East Islands Rental's homes to start planning your Lowcountry getaway!