March is a tricky season for weather in most parts of the United States. The winter weather lingers, while some days the weather flirts with spring temperatures. However, the Isle of Palms weather in March is more favorable than a lot of other destinations! Temperatures in Isle of Palms can rise to 70° Farenheight, which is perfect for a sunny afternoon on the beach. Find out more about the Isle of Palms during March below. When you're ready to plan your coastal getaway, request a copy of our free Isle of Palms Vacation Guide! This resource is filled with local insight on where to dine, stay, and play in our area. 
Unlock Your Isle of Palms Vacation Guide
Your Guide to Isle of Palms Weather in March
What's the Average Temperature in March on the Isle of Palms? 
The average monthly high in Isle of Palms in March is 68° Farenheight, while the low is 48° Farenheight. You can expect an average of seven days on rainfall in March, which is about not uncommon in our subtropical climate. The final verdict: Isle of Palms weather in March is likely to be more or less comfortable, with lingering winter temperatures. 
Packing for March Temperatures
The daily high in the Isle of Palms in March can vary by about 20 degrees. Because of this, we recommend watching the weather before you being to pack. Here's a quick guide to what to pack for your March getaway to the Isle of Palms:
Sunblock. Although the temperatures are mild, the UV index is still high! 
A light jacket. Normally, temperatures are in the 40s and 50s in the morning and warm up throughout the day. Pack a light jacket for those sunrise walks on the beach!
A bathing suit. Although the water remains chilly, March is still a great month to lounge on the beach. 
Pants and shorts. To be safe, be sure to pack at least a couple pairs of each type of pant! Shorts don't take up much room in your suitcase, so it doesn't hurt to bring them in the event it gets warmer than you anticipate. 
Don't fret if you forget something or the weather surprises you! Our favorite shops near the Isle of Palms have everything might you need.  
The Beach in March 
The average ocean temperature in Isle of Palms is March is 61° Farenheight. This is a good temperature to soak your feet in, but you probably won't find many people swimming! Who says you have to get in the ocean to have an amazing day at the beach? Head to the beach at Isle of Palms Country Park for a day of relaxation! Pack your favorite snacks, a good book, then reserve chairs and an umbrella from the best Isle of Palms beach equipment rentals. 
Events in March 
There are also some exciting events in the Lowcountry in March! The Charleston Food & Wine Festival is one of the most popular events of the year and it happens at the beginning of March. Attend this festival to get a taste of our area's famous coastal cuisine. Snag your tickets for this year's event before they're gone. This is a popular event that's known to sell out! 
Your Spring Home in Isle of Palms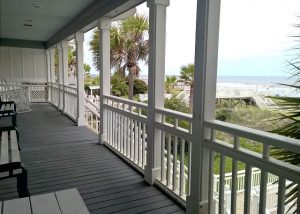 East Islands Rentals has vacation homes in the best locations in the Isle of Palms. Stay in one of our oceanfront rentals to be just steps away from the beach — one of the best ways to take advantage of the Isle of Palms weather in March! 
Browse a full inventory of East Islands Rentals vacation homes to start planning your Isle of Palms getaway!